One of the best ways to improve your health is to buy cross trainer and engage in regular exercise; regular exercise helps you stay healthy. There are several tools you can use, and they often range from beginners to experts. Only a few workout tools work for both experts and starters.
One of such is a Cross Trainer. With a Cross Trainer, you get to enjoy more workout options and effectively tone your muscles.
Getting a Cross Trainer should be on top of your bucket list; it does not matter if you are an expert or a beginner. The truth is, buying one is easier said than done, considering the numbers of manufacturers, and the volume of products present in the market. Yet, many are buying the best for their personal and general use, and you shouldn't be left out too, you can lay your hands on the best ones too.
But several factors must be put into consideration if your hands will get to use the very best Cross Trainer. This article will provide these essential details, those that will make selection easier for you.
3 Steps To Getting The Best Cross Trainer For You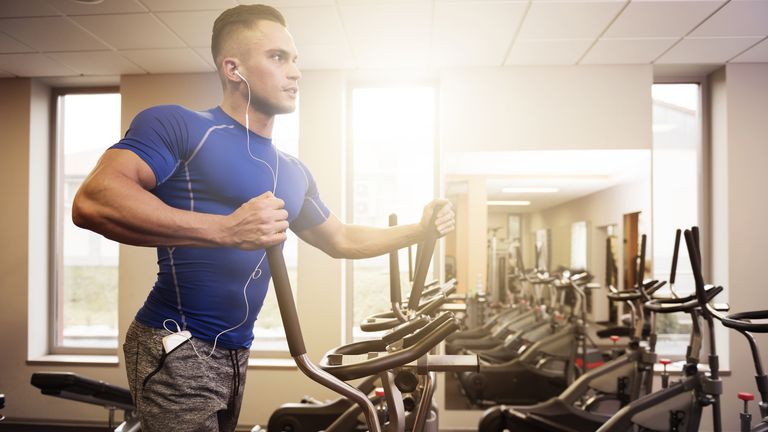 To help you get the best one, we will pay attention to three essential points that must be put into consideration when buying a Cross Trainer. To buy cross trainer;
Know the types of Cross Trainers
Pay attention to our cross trainer buying advice
Set your budget.
Types of Cross Trainers
There are different types of Cross Trainers; this is one of the important to know, as it affects what you will be buying. Here are some of the popular ones;
Incline Cross Trainers
This type of Cross Trainer makes targeting specific muscle groups easier. You can change the level of incline of this Cross Trainer, to support walking uphill, or to allow you to train on flat. This type of Cross Trainer is designed explicitly for targeting the upper thigh and core muscles.
Variable Stride Length Cross Trainer
Variable stride length Cross Trainers offer you different stride lengths. This versatile Cross Trainer allows you to choose between walking or running (longer and shorter stride). It is specifically best for families with different stride lengths.
Electro-Magnetic Resistance Cross Trainer
The resistance level of this Cross Trainer is controlled by a magnetic field that varies. The sort of resistance offered by this Cross Trainer is similar to those found on high-quality Cross Trainers.
Ergometer Cross Trainer
The resistance of this type of cross Trainer is measured in watts. This makes the Cross Trainer perfect for athletes due to its unmatched accuracy. Many who use this type focus on its accuracy.
Belt Resistance Cross Trainer
The belt resistance Cross Trainer resistance is controlled by belt and flywheel. This type of Cross Trainer is cheap and features low-quality build. This type is not a reliable and top-notch quality Cross Trainers, but it is highly affordable.
Rear or Front Driven Cross Trainer
The flywheel of this type of Cross Trainer is located at the back. The Cross Trainer features a slightly elliptical motion for you when exercising.
The front driven Cross Trainer, on the other hand, features a flywheel that is located at the front. The trainer also features a slightly flatter motion for you when exercising.
Picking either a front or rear Cross Trainer will boil down to personal taste, and the quality of the machine is not influenced either by the front or rear design. The major difference is the motion of movement.
Fan Elliptical Trainer
The resistance of this sort of Cross Trainer is very restricted due to its design. They are designed for less frequent use and offer you limited workout options.
Hint: the electromagnetic resistance Cross Trainer is the best option of all the listed types of Cross Trainer. If allowed by your budget, you should go for this Cross Trainer.
Read: Best Barbell For CrossFit
Cross Trainer Buying Advice
Picking the Right Spot for your Cross Trainer
Before you proceed to buy Cross Trainer, you need to check if you have enough space for keeping and housing the Cross Trainers. Cross Trainers are not supposed to be kept in cold rooms or garages, especially when you are selecting the electronic ones. The temperature changes can cause lasting damage to the machine and its components.
As such, you need to prepare a special room for the Cross Trainer and other electronic fitness equipment. You should ensure that you place a heavy sheet under the machine. As an alternative, you can make use of rugs as this will greatly reduce the chances of the machine becoming faulty.
You should also ensure that the room has enough ventilation. This is because you won't be comfortable when working out if the room is not well ventilated. The room you are keeping your Cross Trainer should be in the same condition as where you keep your electronic appliance. In fact, when they are in the same room as your other musical appliances, you can work out while enjoying the thrilling sound coming from these musical appliances.
How much space should you dedicate?
Most Cross Trainers are large. You will find most ranging from 10 – 15cm in width and length. This makes them accessible and suitable for working out. So, you need a much bigger space to accommodate the machine.
Check the weight capacity
Your weight will also influence the type of Cross Trainer you will be buying. If you put on too much weight on the machine, the chances are high that it will stop working sooner than later. As such, consider your weight, and check if the machine can support your weight, and peradventure your weight increases, will it still be able to support your weight?
Most Cross Trainers support as much weight as 20 stone (130kg), selecting one of these trainers is the best decision. The higher you weigh, the bigger your requirement. Then you should opt for a Cross Trainer with wide length and width; if you have bigger weight, this will help you become more comfortable while working out.
Choose the appropriate stride length
The stride length is another essential factor to consider. The stride length is defined as the maximum distance between the rear of your front foot, and the front of your rear foot while working out. Most high-quality Cross Trainers have longer stride lengths, which often measure up to 18-inches.
The movement range of the Cross Trainer is highly influenced by the stride length. For walking motion Cross Trainer, the stride length is required to be shorter. Increment in speed and intensity of the workout will require wider stride. You should opt for Cross Trainers with adjustable strides.
Check the weight of Flywheel
The weight of the flywheel, which is measured in kilograms, is another factor that affects the resistance, and smoothness of the cross-trainer movement. As a general rule, the higher the weight of the flywheel, the better the Cross Trainer.
Before you buy Cross Trainer, try and pay careful attention to the flywheel weights as this will affect the performance of the Cross Trainer. If the flywheel is light in weight, you won't enjoy using the machine.
Know the resistance level
The resistance level is another important factor to consider when making your selection. It is good to go for a machine with several resistance levels, compared to those that have just a single level. Higher resistance is achievable with machines that have varying resistance levels.
Check out the control
As in other equipment, you should go for Cross Trainers that can easily be controlled. If you don't understand the instructions, operating the machine will be hard. The instructions should be clear and detailed. It should also be comfortable for you when working out.
Check customer reviews
Many often pay less attention to this detail, and they fall into the same pit previous users have fallen into. Before you buy a product, take a pause, and see what previous users are saying about this product. That is one yardstick that will help you know if buying is a wise decision of not.
Check the build quality
The build quality will influence how useful the Cross Trainer will be. The truth is, it can be tough to identify the best build due to the varying designs and materials used for these designs. To buy cross trainer you have to pay attention to the flywheel weight, the size, the overall weight of the machine, and the warranty offered by the manufacturer.
See Best Cross Trainer Machines For a Full Body Workout
Set Your Budget
Note: Price does not always mean quality. The most expensive product is not always the best; the same can be said of cheaper products too.
While the manufacturer determines the price of the product, the quality it carries often influences the price. To buy Cross Trainer with a high-quality, you should budget between $300 to $1000. There are numerous Cross Trainers that are more expensive than these; if you are planning to use the Cross Trainer in a public gym, you can consider those high-expensive options. A budget of $300 to $1000 will give you more product options.
The most expensive ones will come with numerous features, as highlighted above. Your decision should solely be based on these features and how they will improve your workout experience.